---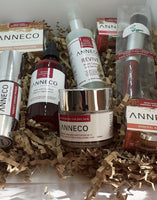 Our limited-edition Anneco beauty Premium Winter gift box makes Natural make up a part of you everyday regime. Discover a new premium makeup kit, It's the perfect indulgence for the natural beauty lover in your life —or as a natural treat to yourself.
LOVE ANNECO/LOVE YOURSELF / LOVE ENVIRONMENT
At Anneco we're making gifting planet-friendly by minimizing plastic across our complete Anneco collection. We have eliminated unnecessary packaging, incorporating recycled materials whenever possible and made our gift boxes completely recyclable. Designed to look like wrapped gifts, all of our sets feature a hand packaged kraft gift box ready for giving —no gift wrap needed.
Includes 9 full size items;
Anneco Loose Mineral  foundation 12.5g , Just remember to choose your skin type , fair, medium or dark.
Anneco loose Mineral Bronzer 6g 
Anneco Loose Blusher 6g
Anneco make up Cleansing oil 100ml
Anneco Moisturiser dry skin edition 50ml
Anneco Perfect Canvas Primer 30ml 
Anneco Revive Brush Sanitiser 100ml
Anneco colour corrector, Blue and Green.
Anneco Eyeshaddows , 4 varieties.
All gift boxes are ready to be gifted, simply wrapped in recycled brown kraft paper and delivered to your door.
Enjoy our gift of giving natural Anneco Beauty.
PURE/NATURAL/HONEST